AultCare Quick Connect November Luncheon
AultCare Quick Connect November Luncheon
Wednesday, November 15, 2023 (11:30 AM - 1:00 PM) (EST)
Description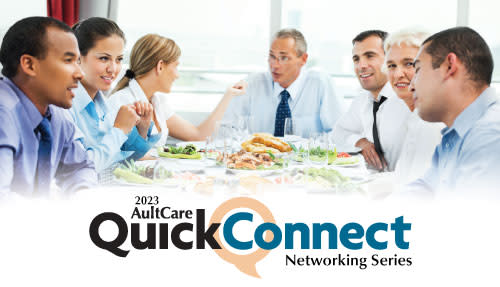 Join us at the AultCare QuickConnect Luncheon featuring Mark Hiltz, a Gratitude Researcher and dynamic Speaker. Explore the transformative power of gratitude with Mark's insightful presentation.

Mark, a leading Gratitude Researcher, will explain:
How can an attitude of gratitude be good for us?
Why isn't it always natural to be grateful?
What can we do to overcome things that stand in our way from being grateful every day?
Featured entree: Sausage and peppers with penne pasta and a side salad.
---
About the series: AultCare QuickConnect offers great networking opportunities for business leads. Join Stark County's premier luncheon – enjoy activities, hear speakers, make connections, and savor lunch. Members can promote their business with a 30-second commercial by contributing a $15+ door prize. Contact Ashley to secure your spot.
---
BIO: Mark Hilz, Gratitude Researcher, Speaker

In July 2020, Mark Hiltz retired as a Fortune 100 Sales and Service executive to focus on his gratitude work, both writing and speaking on this topic. In 2016, Mark earned a Masters Degree in Coaching from Middlesex University in London. While studying at Middlesex, Mark researched gratitude in the workplace. More specifically, how practicing gratitude at work impacts employee happiness. It was a fun and rewarding experience to understand how having an attitude of gratitude benefits us all. Since then, Mark has been sharing his research more widely, helping both individuals and organizations benefit from being grateful.
Mark donates his speaking fees to charity. Mark likes to say that over the years, he learned more than he taught, took more than he gave and was blessed more than he deserves. Donating speaking fees is simply one way for Mark to show his gratitude for blessings received.
Mark and his wife of 38 years, Linda, have five children and two grandchildren. They live on 42 forested acres in Hocking County Ohio, which the kids lovingly refer to as "Grateful Acres." Mark and Linda enjoy hiking, cycling and hosting friends and family at their place. Join us when you can!
Pricing
Cost: $25 (members), $35 (non-members)
La Pizzaria Restaurant, Inc.
3656 Dressler Rd



Canton

,

OH

44718-2781

United States



Wednesday, November 15, 2023 (11:30 AM - 1:00 PM) (EST)
Registration begins at 11:00 a.m.